FAQ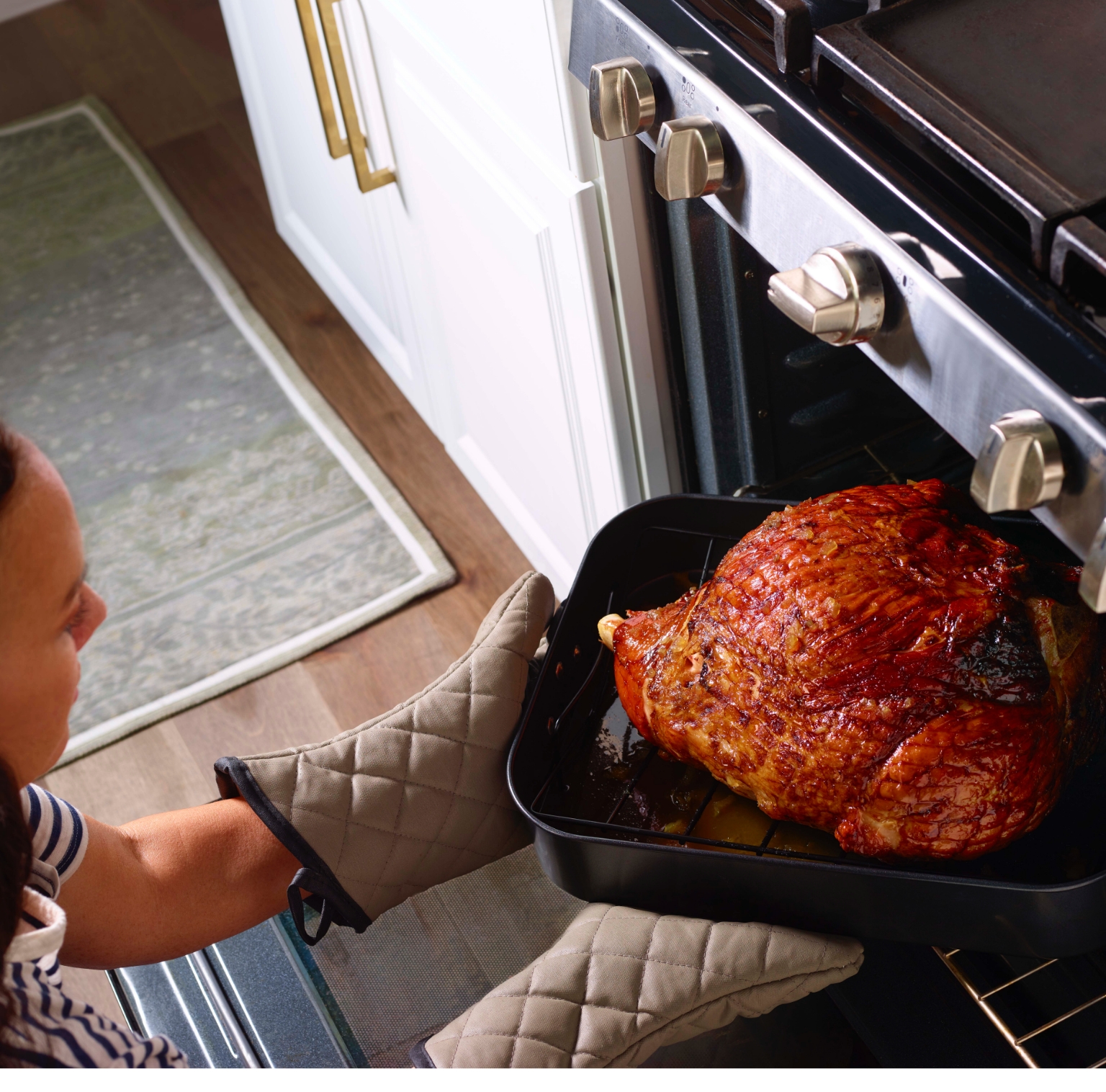 You have questions, we have answers
We've done our best to anticipate all of your meat-related questions below, but if there's something we've missed visit our Meat Know-How section for tips or contact us and we'll get back to you as soon as we're able.
Frick's FAQs
WHERE CAN I FIND FRICK'S PRODUCTS?
Use our store finder to see what retailers near you may have our products. We recommend that you contact the store nearest you to confirm their stock, as no store carries all of our meats, and even stores in the same chain often stock a different selection of products. You can also buy some products directly from us online, or contact us, and we'll be happy to help guide you in your search.
WHERE CAN I FIND INSTRUCTIONS FOR COOKING FRICK'S PRODUCTS?
You'll find warming instructions for our products, broken out by product type, on the Meat Know-How page. Note that warming recommendations for large boneless hams and boneless hams weighing 3 lbs. or less are different. Also, check out our favorite recipes for more delicious ways to enjoy Frick's meats. And if you're not sure about something, use the email form on the Contact Us page to ask us directly.
CAN I WARM FRICK'S HAM IN A ROASTER OR CROCKPOT?
Yes, you can. However, slow cooker devices generally don't have specific temperature settings, just low and high, therefore it's difficult for us to create instructions for them that will yield consistent results. That said, because our ham is already fully cooked, there isn't a set temperature you have to reach for food safety, and from that stance, our ham bodes well for slow cooker warming.
We would suggest a low temperature setting if warming ham in a slow cooker, with 135-140°F being a good target temperature for the meat. Although not required for food safety, we find this to be a satisfactory eating temperature that can be reached without drying the ham out. For something like a bone-in portion ham, this warming process could take 4-6 hours. Adding ½ to 1 cup of water to the bottom of the slow cooker is recommended to help keep the ham nice and juicy as it heats.
IF I PLACE AN ORDER ONLINE, WHEN WILL IT DELIVER?
Most orders deliver within 3-6 business days. You will receive e-mail confirmation with tracking the day of shipment, and once shipped, a meat order should arrive within two days of transit. It is not required to be present at the time of delivery, however we recommend refrigerating meat products within 8 hours of receiving.
We ship all meat orders via UPS and swag orders via UPS and USPS. We cannot accommodate orders to post office boxes or APO/FPO addresses.
Expedited orders placed after 9:00 a.m. CST won't ship until the following day, and orders placed after 9:00 a.m. CST on Thursdays will not ship until the following Monday.
We do not ship on holidays.
Can I freeze a Frick's ham?
You can, but do you really want to? Ham is at its best quality when it is fresh, never frozen. Freezing breaks down the structure of a ham, making for a drier, lesser eating experience.
That said, enjoying a frozen ham beats no ham at all, so if you do need to freeze a ham to extend the life of the product, be sure to get it in the freezer before the USE/FRZ by date on the package. The longer a ham is frozen, the lower the ham's quality will be as it suffers from freezer burn, so we don't advise keeping our meats frozen for more than six months. Ham should be consumed within seven days after thawing.
How long can your meats stay refrigerated? Are they good past the expiration date?
If unopened and the vacuum seal still intact, our meats are safe to stay in the refrigerator until the expiration date on the package.
Unlike many "best before" or "sell by" dates, the Use/Freeze by dates on our packages are firm dates to follow for food safety. After that date, the meat is at risk for microbiological spoilage, even if still sealed in the original packaging. Some spoilage may not affect the look or smell of the meat, but can still cause illness, so we must advise anyone to throw out unfrozen meat that's past expiration.
DO YOUR PRODUCTS CONTAIN GLUTEN?
Most of our products are gluten free. This means that not only are there no gluten containing ingredients in the recipe but also that we do additional testing to ensure there is not residual gluten from other processes outside of our control present in our products. We meet the FDA standards of <20 ppm gluten per 100 g.
DO YOUR PRODUCTS CONTAIN ALLERGENS?
Our plant is "Big 9" allergen free. We require letters of guarantee from all of our ingredient and packaging suppliers stating that the ingredients they supply us do not contain any of the "Big 9" allergens (milk, eggs, fish, shellfish, tree nuts, peanuts, wheat, soybeans and sesame). Please give us a call at 1-800-241-2209 to speak with one of our Food Scientist to answer any of your concerns.
Why does your packaging say to use within 5 days after opening?
To keep you safe! Once the meat is exposed to air and the home kitchen environment, the risk of spoilage due to germs and rancidity increases and occurs much more quickly. Some spoilage cannot be detected by sight or smell, which is why we cannot recommend keeping our meat for longer than a week after the initial vacuum seal has been broken. This is not something exclusive to our brand; if you look hard enough, you should find the instruction to use within 5 to 7 days on any package of lunch meat.
WHAT ARE FRICK'S FOOD SAFETY STANDARDS AND PRACTICES?
Being a fully cooked ready to eat meat processor, food safety is first and foremost in our family culture. We have a culture of continuous improvement and zero tolerance when it comes to food safety concerns and zero tolerance for cutting corners. Because of this we eliminated all "Big 9" allergens (wheat, crustacean shellfish, eggs, fish, peanuts, milk, tree nuts, soybeans, and sesame) from our processing facility, thus giving our consumers additional confidence in the safety of our products. Our commitment to Food Safety and Quality is further evidenced through our Grade "AA" rating in our Global Food Safety Initiative (GFSI) audits. GFSI audits are considered the highest standard of audit in the food industry, and AA is the highest achievable rating.
WHERE DO THE MAJORITY OF THE HOGS USED IN THE PRODUCTION OF YOUR PRODUCTS COME FROM?
All of our pork is USA raised. The majority of the pork used in our products come from Midwest states like Iowa, Missouri or Illinois.
WHAT KIND OF ANIMAL WELFARE PROTECTION OR AUDITS ARE PERFORMED FOR THE ANIMALS USED IN THE PRODUCTION OF YOUR PRODUCTS?
Annual Humane Handling Audits are required of our suppliers and reviewed by our Sr. Management. Our suppliers follow the American Meat Institute Guidelines – A Systematic Approach to Animal Welfare, developed by renowned humane handling expert Temple Grandin.
IS THE PORK USED IN YOUR PRODUCTS PASTURED RAISED?
Some of the animals may be pasture raised, however many are not. Because we are not vertically integrated, we do not control all aspects and associated costs of the animal husbandry methods of our suppliers.
ARE YOUR PRODUCTS GMO FREE?
No, due to the prevalence of corn in the diets of many livestock in the USA it is virtually impossible to be GMO free. Approximately 90% of corn and soybeans produced in the US are from genetically modified seeds. Due to the limited availability and the significant cost to us and our consumers, we are unable to provide this option to our consumers at this time.
WHAT IS FRICK'S BOLOGNA MADE OF?
We make our bologna with wholesome cuts of pork and beef blended with an old world mix of spices. Unlike most other bolognas on the market, our bologna is poultry free, giving it a creamier texture and a strong, authentic flavor. We package our bologna in a traditional red casing to match the authentic recipe inside.
FORGOT TO REMOVE THE PLASTIC BONE CAP BEFORE BAKING - IS THE HAM STILL SAFE TO EAT?
No worries, you are not the first to miss that clear plastic cover over the bone of a bone-in ham. Although we recommend you remove the cap before cooking the meat, the plastic is a food grade material that does not degrade in the oven, and therefore should not have a harmful effect on the product. So even if you overlook the cap and bake our ham with it on, the ham should still be safe to eat.
Meat Know-How
Meat
Mastery
Satisfying
Appetites