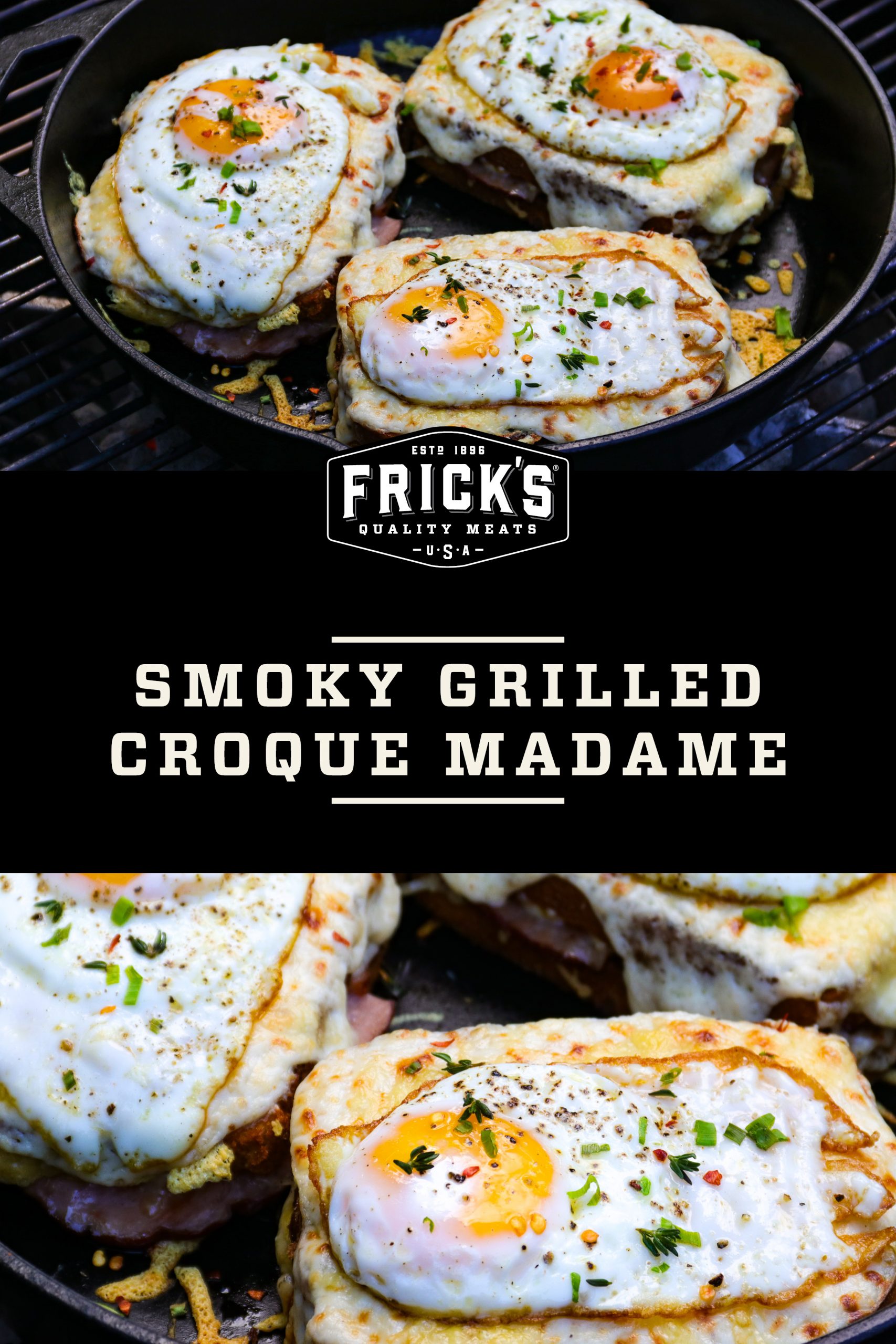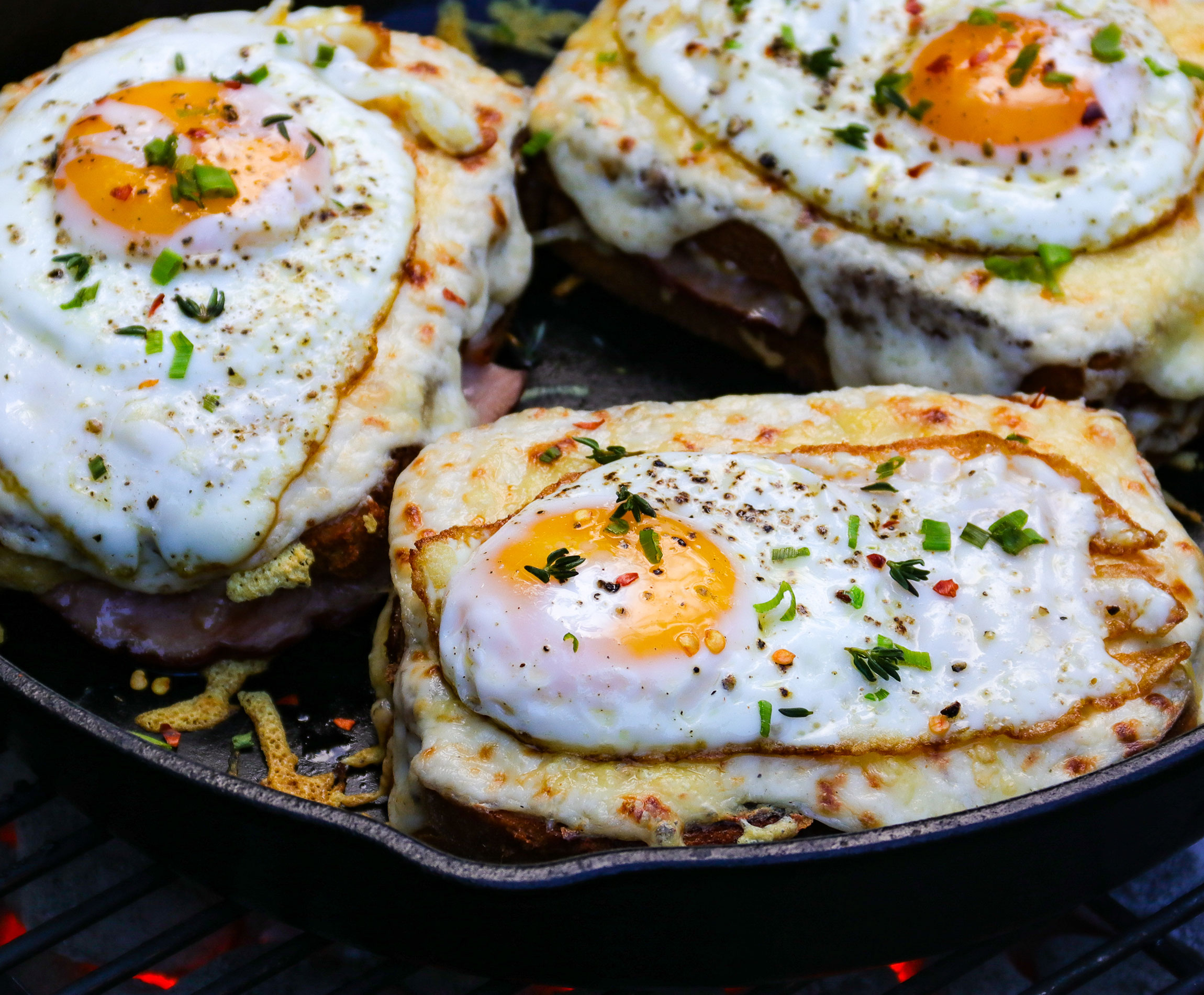 Smoky Grilled Croque Madame
This sophisticated sandwich includes all things comforting and delicious. Following the recipe is a lot easier than it may seem, so fire up that grill!
View Recipe
Ingredients & Instructions
9 slices smoked ham
6 slices good quality sandwich bread
6 oz gruyere cheese, shredded, or other preferred cheese
Dijon mustard
2 tsp. fresh thyme leaves
3 Tbsp. butter, softened
Sea salt and black pepper, to taste
3 large eggs
Olive oil
BÉCHAMEL/MORNAY SAUCE:
3 Tbsp. butter
1 small shallot, finely minced
1 clove garlic, minced
1 1/2 cups half and half
3 Tbsp. all-purpose flour
6 oz gruyere cheese, shredded
3 Tbsp. parmigiano-reggiano cheese (optional)
1/2 tsp. fresh thyme, chopped
Pinch of nutmeg
Salt and pepper, to taste
Step 1
Light a large chimney starter filled 3/4 with charcoal. Burn until coals are covered with layer of fine gray ash, about 20 min. or so. Bank coals on one side of the grill & place applewood wood chunks on top of the burning coals, creating a direct heat side and a cooler indirect heat side. Place cooking grate over coals. Cover grill, and heat about 10 min. Scrape cooking grate clean with grill brush, and wipe a thin layer of vegetable oil over the grates with a paper towel held by tongs. Grill is ready when you can only hold your hand 5 inches above grate for 2 to 3 sec.
Step 2
While the grill heats, prepare the béchamel/mornay sauce. In a medium saucepan, melt butter over medium heat. Add shallots & garlic, and cook for 1 min. Pour in flour and whisk until a somewhat thick paste forms, ~1 min. Add the half & half, and continue whisking until the flour is fully incorporated and dissolved into the liquid. Stir frequently as the mixture thickens enough to coat the back of a spoon, ~2-3 min. Turn off heat and add the cheeses, nutmeg, salt, pepper, and fresh thyme. Fold everything together until the cheese is melted. Pour sauce into a bowl, cover with plastic wrap and set aside to cool.
Step 3
Place the ham over the direct heat and allow it to sizzle & char slightly, about a minute or two. Flip over and repeat. Remove ham when it's heated thru and set aside. Place a large cast iron skillet over the indirect heat side of the grill to get hot slowly while you build your sandwiches.
Step 4
Butter one side of each slice of bread, then spread a thin layer of dijon mustard on unbuttered sides of bread. Sprinkle a light pinch of black pepper over the dijon mustard. Layer equal amounts of cheese over 3 slices of the dijon-spread bread, then place 2 to 3 slices of ham on top of the cheese. Sprinkle equal amounts of remaining cheese on top of the ham, followed by a pinch of fresh thyme. Close the sandwiches and take them to the grill, placing each in the cast iron skillet. Push the skillet over to the hot side of the grill to toast the bread & get it lightly golden brown. Flip each sandwich to repeat. Bring the skillet back over to the indirect heat side of the grill. Spread desired amount of the cooled béchamel sauce over the tops of each sandwich. Close lid & allow the indirect heat to penetrate the sandwiches and melt the cheese. Open the ventilation holes on the lid of the grill, making sure they're positioned over the indirect heat side so the smoke is drawn through the sandwiches.
Step 5
Meanwhile, fry 3 large eggs in a generous amount of olive oil over medium-low heat. Do this part in your kitchen if not enough room on your grill. Season with salt & pepper. Cook to desired doneness.
Step 6
Place fried eggs on top of the sandwiches when the cheese sauce starts to blister and brown in spots. Then serve immediately.
A Chef Resha of Carnal Dish creation.
More Recipes
Shop