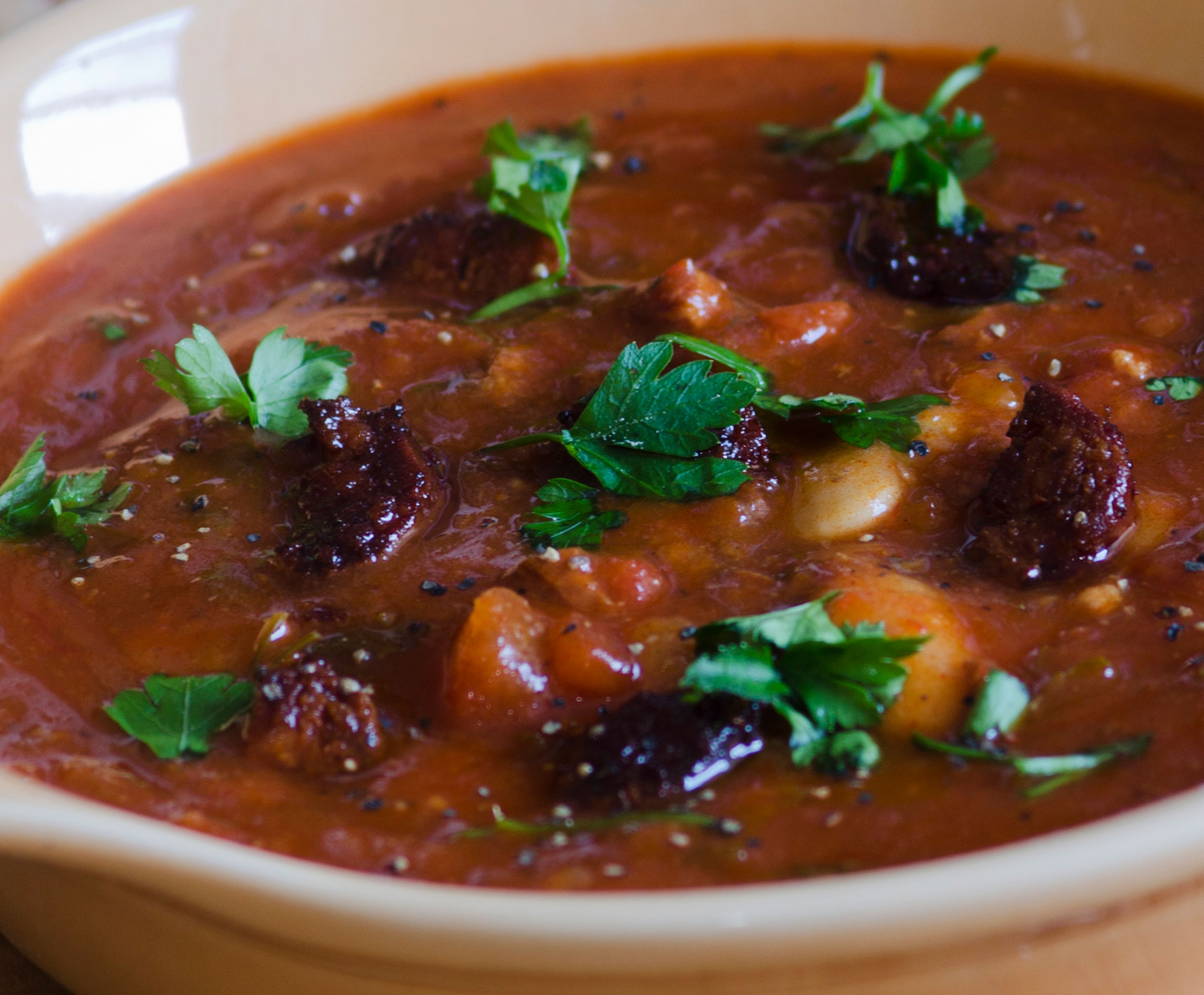 Loaded Ham & Bean Soup
Comfort food at it's finest. Malvin E. Frick, 2nd generation, enjoyed Smoked Ham and Beans once a week growing up in Washington, Missouri. Use the optional bourbon for a great flavor kick.
View Recipe
Ingredients & Instructions
2 cups Frick's ham steak, diced
1 can (15 oz) Great Northern Beans, undrained
1 can (15 oz) Cannellini Beans, undrained
1 can (15 oz) Black Beans, undrained
6 slices bacon
1/2 cup frozen corn kernels
1 Jalapeno, finely diced
1 tbsp. tomato paste
2 fl oz. bourbon (optional)
1/2 cup yellow onion, diced
3/4 tsp. salt
16 oz water
1/4 tsp. white pepper
Step 1
Fry bacon in a large sauté pan. When browned, remove bacon to a paper towel lined plate. When cooled, roughly chop bacon.
Step 2
Pour all but one to two tablespoons of the bacon drippings out of the pan. Sauté onions in bacon drippings over medium heat until soft and caramelized.
Step 3
If using bourbon, pour into pan while scraping up any bits cooked onto the bottom of the pan. If not using bourbon, use 2 tbsp. of water. Add remaining water to pan and bring to a simmer.
Step 4
Transfer all liquid and onions to a medium soup pot on medium heat. Add all beans, salt and pepper, 3/4 of the bacon, corn and jalapenos. Bring to a boil and reduce heat. Simmer uncovered 15 to 20 minutes.
Step 5
Add ham and season to taste. Soup can be simmered longer and will thicken more the longer it's cooked. Spoon into bowls and top with remaining chopped bacon. Enjoy!
More Recipes
Shop