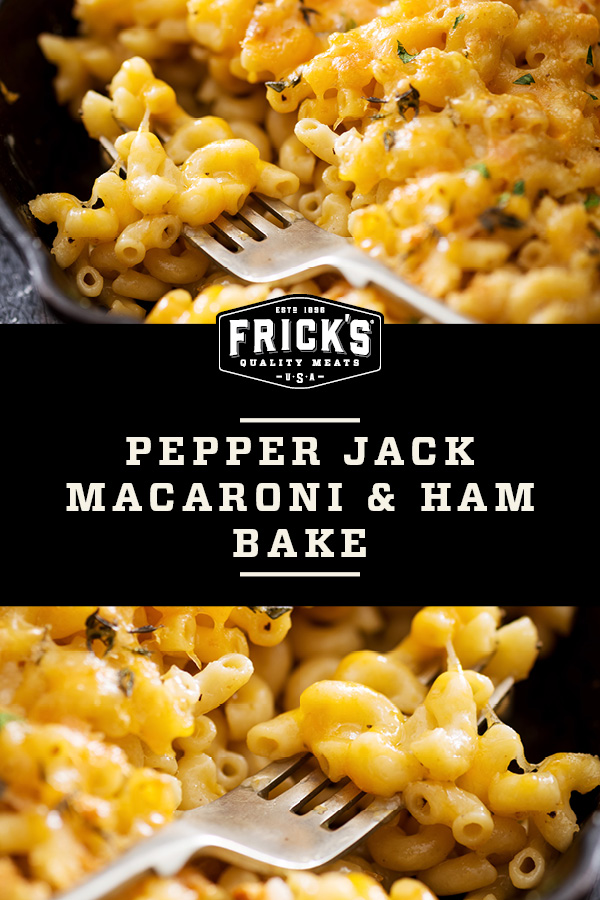 Pepper Jack Macaroni & Ham Bake
Who can say no to Mac and Cheese? Fun for all ages, this scrumptious dish is the ultimate comfort food. The spicy jalapenos are added for a kick, but the Smoked Frick's ham is what makes this dish a quick and easy meal!
View Recipe
Ingredients & Instructions
2 cups chopped Frick's ham
2 packages Macaroni & Cheese dinner
2 jalapeno peppers, seeded, chopped
1 Tbsp. oil
1 small red onion, finely chopped
2 cloves garlic, minced
4 eggs, beaten
6 slices Pepper Jack Cheese, coarsely chopped (approximately 6 oz.)
18 butter crackers, Ritz or Tollhouse, crushed (about 3/4 cup)
1/2 cup fresh parsley, chopped
Step 1
Heat oven to 350°F. Prepare macaroni & cheese in a large saucepan according to directions on package.
Step 2
Meanwhile, heat oil in a medium skillet on medium heat. Add ham, onions, peppers, and garlic; cook 5 minutes, stirring frequently. Add ham mixture to macaroni & cheese along with eggs and chopped cheese; mix lightly. Mix cracker crumbs and parsley; stir half into dinner mixture.
Step 3
Spoon into 2-qt casserole sprayed with cooking spray; top with remaining crumb mixture. Bake 35 minutes or until center is set and casserole is heated through.
More Recipes
Shop