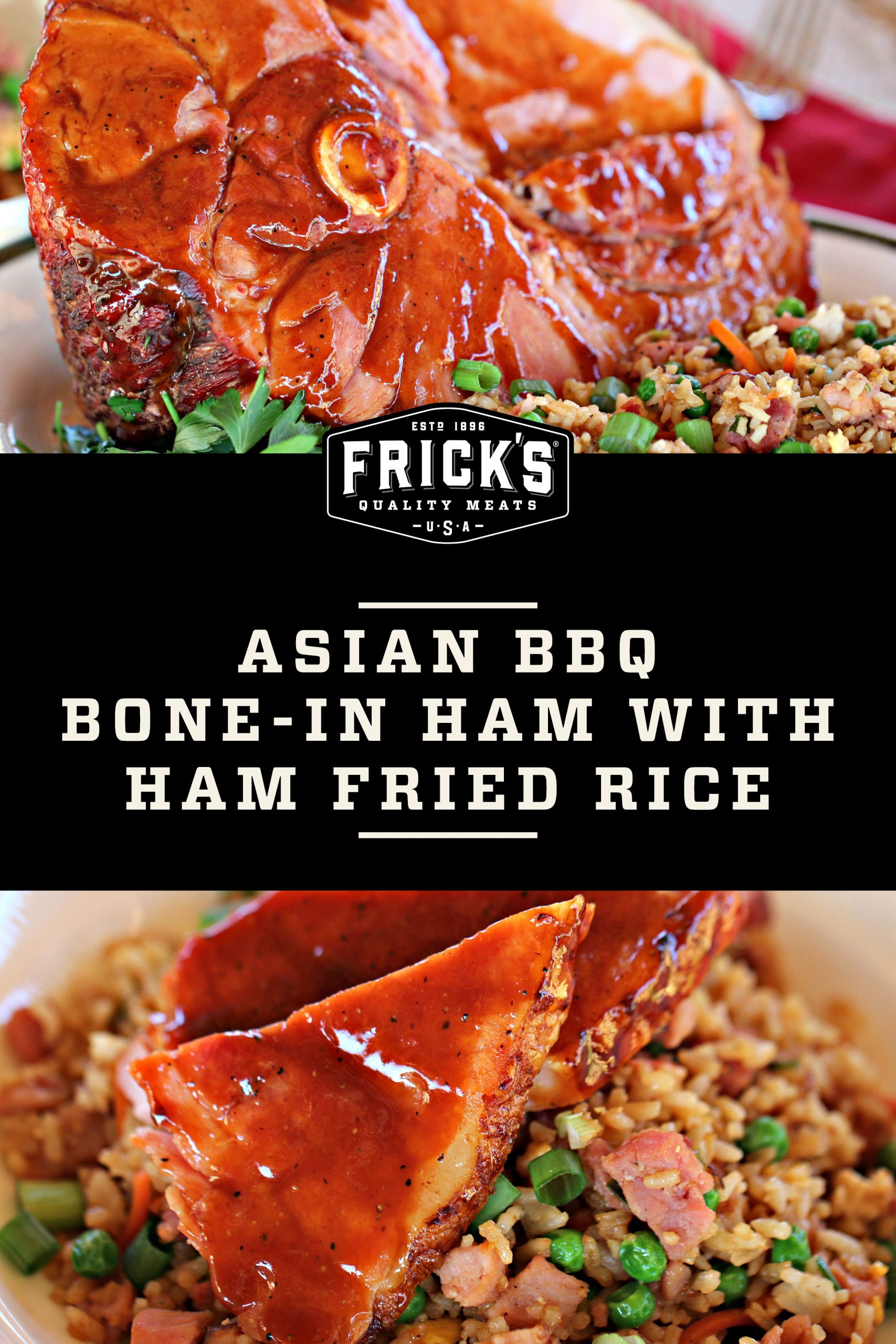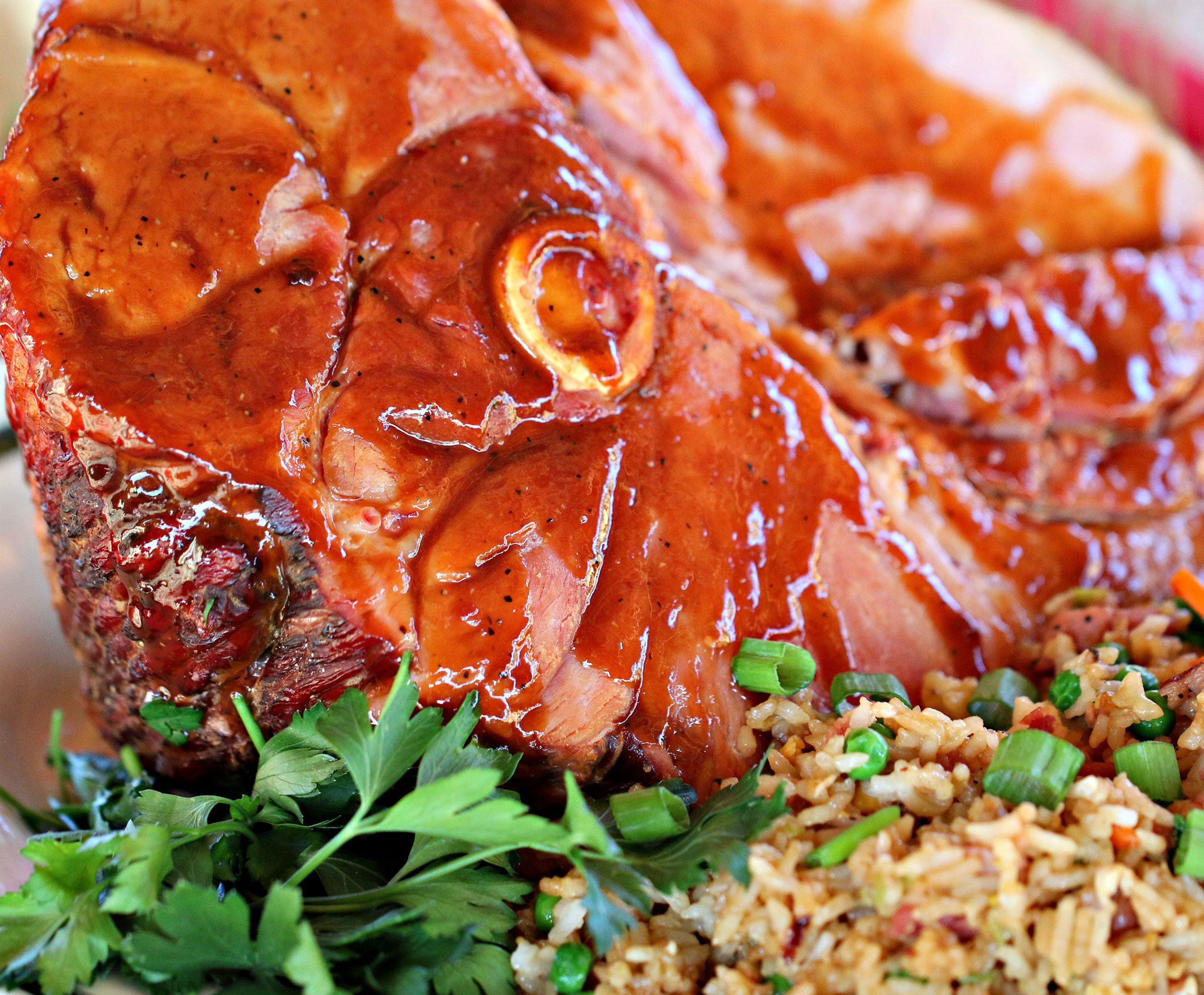 Asian BBQ Bone-In Ham with Ham Fried Rice
For those who don't favor sweet glazes or just want to try something different, turn to this recipe inspired by Asian cuisine.
View Recipe
Ingredients & Instructions
1 Frick's bone-in half ham
1 (9.45 oz) jar hoisin sauce
1/2 cup ketchup
1/4 cup brown sugar
1 Tbsp yellow mustard
1 tsp soy sauce
pinch chili flakes
2 tsp ground pepper
For the Ham Fried Rice
2 cups chopped ham (1 thick slice cut from ham before cooking)
4 cups precooked rice
2 Tbsp scallions, chopped
2 Tbsp vegetable oil, divided
1 tsp sesame oil
2 large eggs
1/2 cup chopped scallions, white & green parts
1/2 cup sliced carrots
1/2 cup frozen baby peas
1 Tbsp brown sugar
1/3 cup soy sauce
pinch red pepper flakes
1/8 teaspoon ginger
salt and pepper to taste
Step 1
Pre heat grill to medium (350-400°F)
Step 2
Combine hoisin, ketchup, mustard, brown sugar, soy sauce and chili flakes in a medium sauce pan and heat till mixture begins to boil. Add the pepper and stir to combine, reduce heat, and keep warm.
Step 3
Place the unwrapped ham in an aluminum foil lined disposable foil roasting pan
Step 4
Ladle or brush 3/4 cups Asian BBQ sauce all over the ham and place ham cut side down. Tent the foil over the ham and cook for 40 minutes on the grill. Keep an eye of the grill temperature to maintain 350-400°F.
For the Ham Fried Rice:
Heat a wok or large frying pan over medium high heat. Add 1 tablespoon vegetable oil and 1 teaspoon sesame oil to the hot pan.
Sauté 1/4 cup chopped onions and carrots for 3 minutes or until onions are translucent. Remove vegetables from pan to a small bowl
Add 1 teaspoon vegetable oil to pan and cook chopped ham until hot (about 3 minutes) stirring to heat through
Remove cooked ham to the same bowl as onions and carrots
Add 1 teaspoon oil to the wok. Cook 2 large eggs until yolks are just hard. Remove from pan and chop
Add brown sugar, sesame oil, soy sauce and 1/8 teaspoon ginger to the hot wok. Stir to combine, add pinch chili flakes and cook till bubbling
Return meat and vegetables to the pan. Add rice and combine
Add peas and fried egg, stir to combine. Heat for 3 minutes and serve with chopped scallions, sliced grilled ham and more Asian BBQ Sauce
A Rebecka Evans of At Home with Rebecka creation
More Recipes
Shop